[GIFTED] You may or may not be aware that I love going to the theatre, and my girls are following suit. This has been helped along nicely by the fact that we get to go to shows that are done impeccably well. Recently our family had the pleasure of being hosted at the opening of the new musical show "Chitty Chitty Bang Bang Jr" by The People's Theatre. It was brilliant!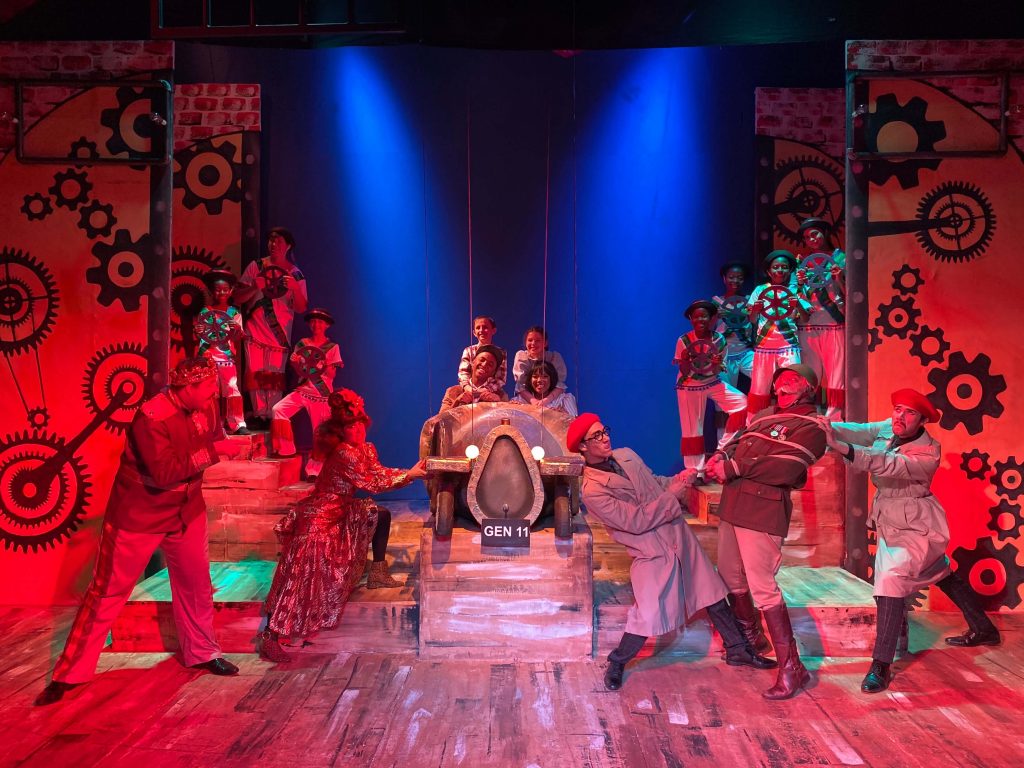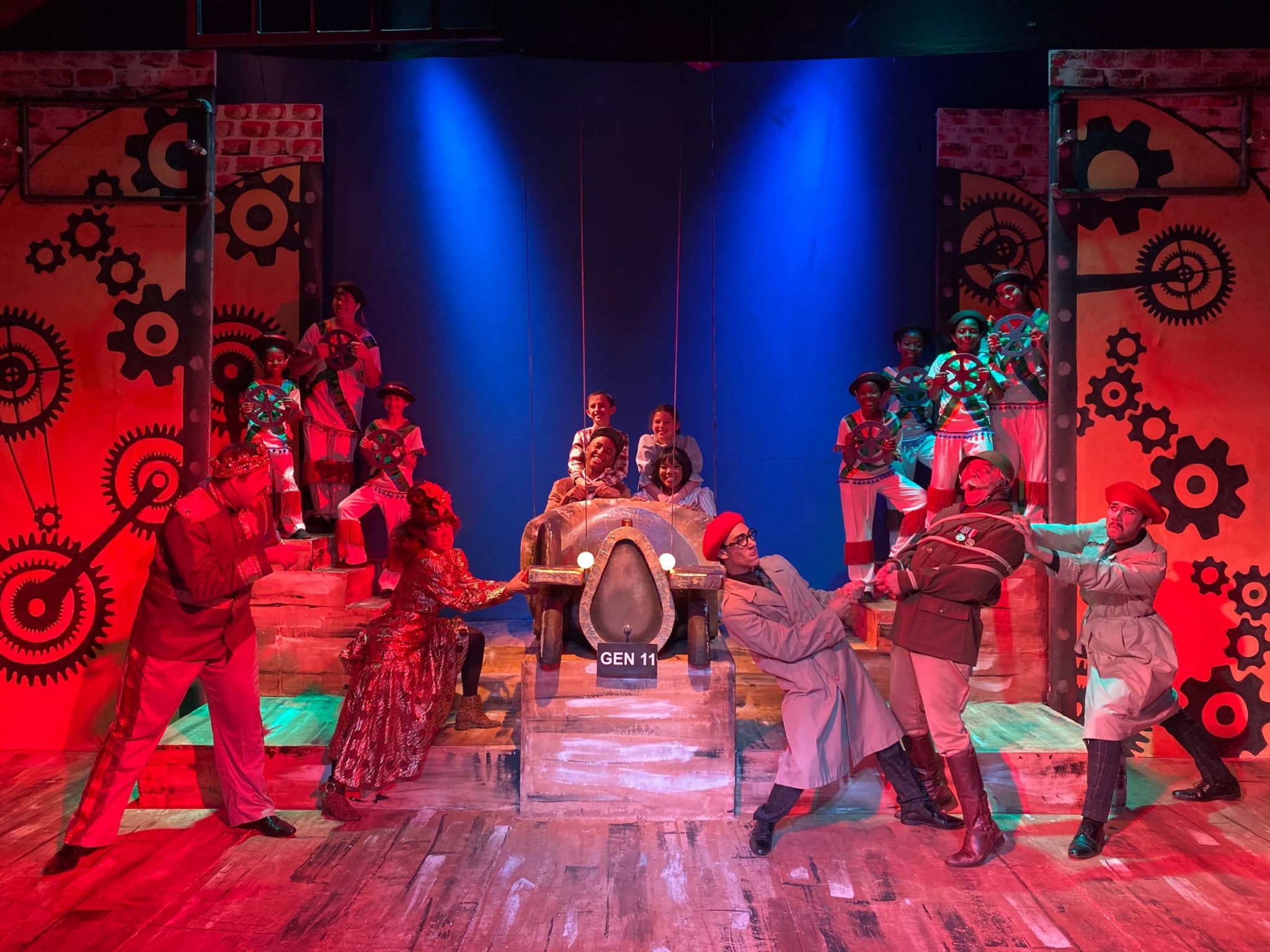 If you missed our last theatre review, it was Seussical Jr also by The People's Theatre in Joburg. These guys can do no wrong!
Have you seen the original movie Chitty Chitty Bang Bang?
It was written by Ian Flemming the man who bought you James Bond and so whilst there are no martinis, what you do have is a story of a car that flies and even has the ability to sail the seas.
With the musical score (that I feel doesn't get enough sound play in my house) by the Sherman Brothers (Does Mary Poppins ring a bell?), you just know it's amazing already.
The premise
An eccentric inventor, Caractacus Potts, sets about restoring an old race car from a scrap heap with the help of his children, Jeremy and Jemima. They soon discover that the car has magical properties, including the ability to float and take flight. Trouble occurs when the evil Baron Bomburst desires the magic car for himself. The family joins forces with Truly Scrumptious and batty Grandpa Potts to outwit the dastardly Baron and Baroness and their villainous henchman, the Child Catcher.
The interpretation from screen to theatre was wonderfully done and I think it comes with the dynamic duo of the directors and choreographer. Chitty Chitty Bang Bang JR is directed by Jill Girard and Keith Smith, with Musical Direction by Coenraad Rall, Musical Staging by Sandy (Dyer) Richardson, Set and Lighting Design by Grant Knottenbelt and costumes by Merry Whillier and Sean McGrath.
What about the scary bits?
A few of us who have seen the movie remember the child catcher being quite scary and so I was slightly apprehensive going to watch the show and thinking how would Miss K handle this as she is quite sensitive to this type of movie. I can honestly say that the Directors handled it perfectly. Both the girls were enthralled.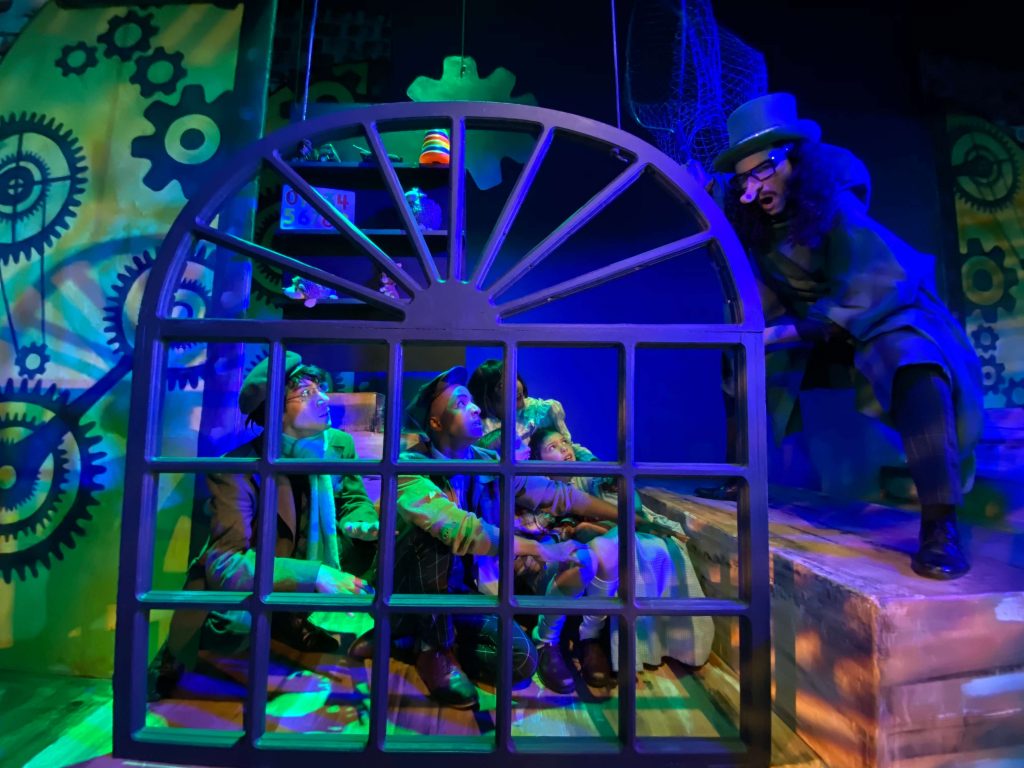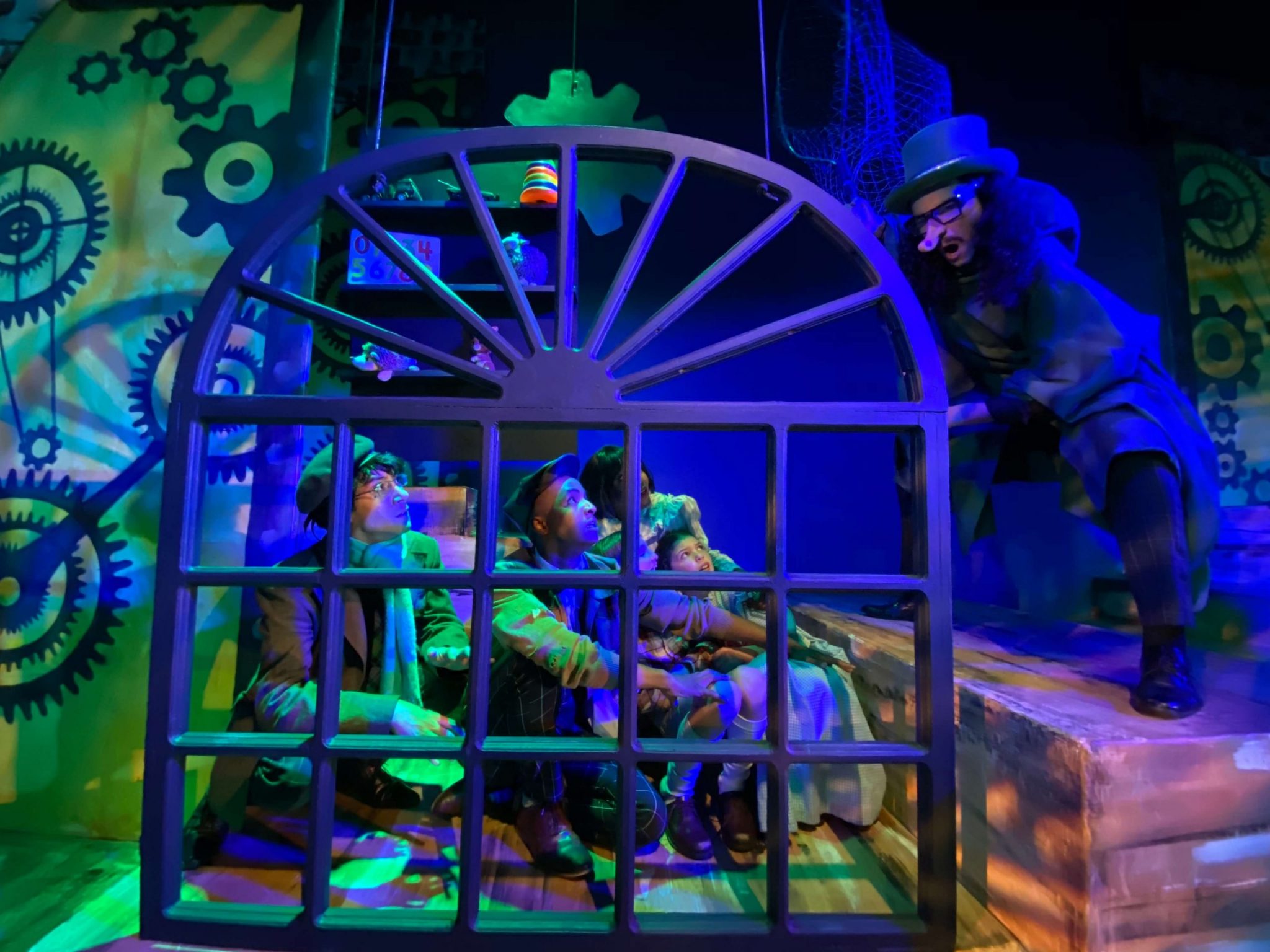 Set The Scene
Then we need to address the costumes and the scenery. Once again it was cleverly done with the use of lighting and clever props. Please note there are flashing lights during the performance.
Let's talk talent
This show is oozing with the likes of some up and coming stars and some stage performers that need more notice because the acting, the comedic timing and the singing never mind stage presence left Miss K speechless
Newcomer Mondé Sibisi (recently qualified in the UK), plays the role of Caractacus Potts who is Jeremy and Jemima's father. He is an eccentric inventor who cares deeply about his children.
Peoples Theatre is delighted to have Caroline Borole grace their stage, playing the role of Truly Scrumptious who is a smart, confident, adventurous daughter of Lord Scrumptious who quickly earns the Potts family's trust. (Caroline recently wowed audiences on stage as Tina in Tina – Simply The Best.)
One of Peoples Theatres favourite performers, Luciano Zuppa is back again, playing the role of Grandpa who loves Jeremy, Jemima, and Potts with all his heart; the most important thing to Grandpa is his family.
Roberto Queiroz, who was seen in Shrek Jr at the People Theatre as Lord Farquard, plays the role of Lord Scrumptious, the all-powerful owner of the candy factory.
Peoples Theatre is excited to have newcomer Matthew Otto play the role of the larger than life, evil Baron and by his side, the mischievous and manipulative Baroness played by Joelle Rochecouste who charmed us as Gloria in Madagascar Jr.
Peoples Theatre is happy to have Raymond Skinner back playing the role of Boris, the worst spy ever.
Chitty Chitty Bang Bang Jr. opens at the Peoples Theatre at the Joburg Theatre Complex The theatre is located in Joburg and they have recently put a fence around the entrance. With safe parking and if it's in the month of your children's birthday they get to go up after the stage performance.
How To Book to see Chitty Chitty Bang Bang Jr at the People's Theatre.
I am so impressed with the show and how well this was done. Will, we going to see it one more time? Oh definitely yes with a few friends because what a great idea for an outing and playdate.
Performance times are Mondays to Friday at 09.00 am and 11.00 am, Saturdays, Sundays & Public Holidays at 10:30 am and 2.30 pm. The show is running until 22 December, so there's still plenty of time to get tickets to see Chitty Chitty Bang Bang Jr if you haven't already.
Ticket prices are R140 for general public or R100 for members of the Peoples Theatre kids Club (You can become a member for R120 membership fee – contact Peoples Theatre on 011 403 1563/ 2340 for more information).
Special school performances are available at R80 per learner plus for every 20 learners there is one complimentary ticket per educator – extra educators R80 each and all other accompanying adults are R100 each.
To book tickets call Sean or Beth on 011 403 1563 / 2340 or email the theatre at [email protected].
For more information visit www.peoplestheatre.co.za
For more information and to make these bookings, contact the Peoples Theatre directly on 011 403 1563 / 2340.
Follow The Peoples Theatre on Social Media:
DISCLAIMER: We received tickets to the show in return for an honest review. All thoughts and opinions are my own.
This post was edited by Blue Media Edit.