I have created a Before Screen Time Checklist for the girls. Before they get screen time and devices they need to work through the list. The list has chores and sets expectations so that they already have a plan for their day. Yes, brushing teeth and hair are mandatory. I am such a cruel mom.
Why Use a Before Screen Time Checklist?
The pandemic continues and as we now have headed back into the next lockdown here in South Africa I realised that I needed a way to address the ongoing barrage of questions from the girls, "Can we play online games?" "Can we watch TV?", "We are bored!" … and so when holidays and weekends arrive we have the girls forgetting how to entertain themselves. I realised that we needed to look at how we will be monitoring screen time and devices.
Lockdown has been the necessary trigger that made me have to relook at how we are approaching device and screen time access in our house. I am embarrassed to say that I would answer "let's see" giving a very half baked answer. So, really it was down to my mood. This, I realise, is really unfair on the girls. They need goals and not ones where the goalpost keeps moving. Having ADHD I need and thrive on the girls and myself having guidelines and expectations.
The Solution For Us Is The Before Screen Time Checklist
The Before Screen Time Checklist is a list that can help during holidays, weekends and not just Lockdowns and being stuck at home. Creating the Before Screen Time Checklist for our girls has made me question why didn't I make one sooner. This list isn't just a chore list before screen time, it's also activities and other entertaining ideas to keep them occupied before allowing them to disappear into the abyss on their screens.
Dealing with ADHD kids, you'll find they are either hyper-focused on what they enjoy and what interests them, or unfocused and losing interest quickly. This means I need to get buy-in, I need to understand what motivates them, and then use it to get things done and create structure.
I have made peace with the fact that our interests (the girls and mine) are different and whilst I could play board games and partake in playing card games, not forgetting anything that is arts and crafts, as they get older the girls do not want me to always be around playing with them.
Being a mom, you know these do not always go as plan. Hello Parenting! I have had days when I have planned something fun to do and share and then they decide it won't be working out that way.
I am Pro – "a digital life" for my kids, but I want to do this in a proactive educational way. However, I find emotions are everywhere when devices and screen time are not monitored. I need to monitor the content they are consuming on TV and online, as well as the amount of time they are on their screens and balance that with other things to do.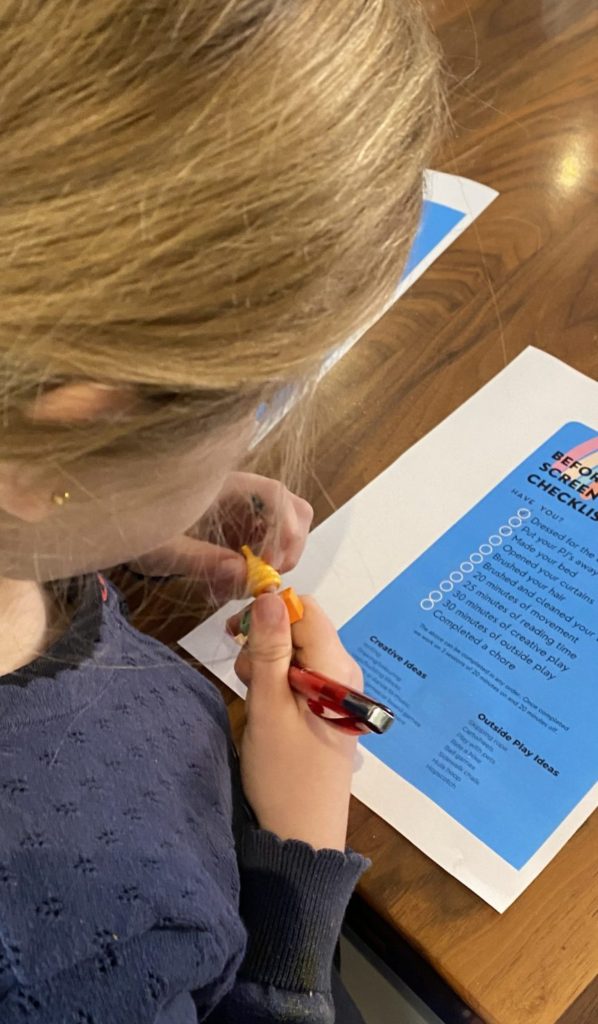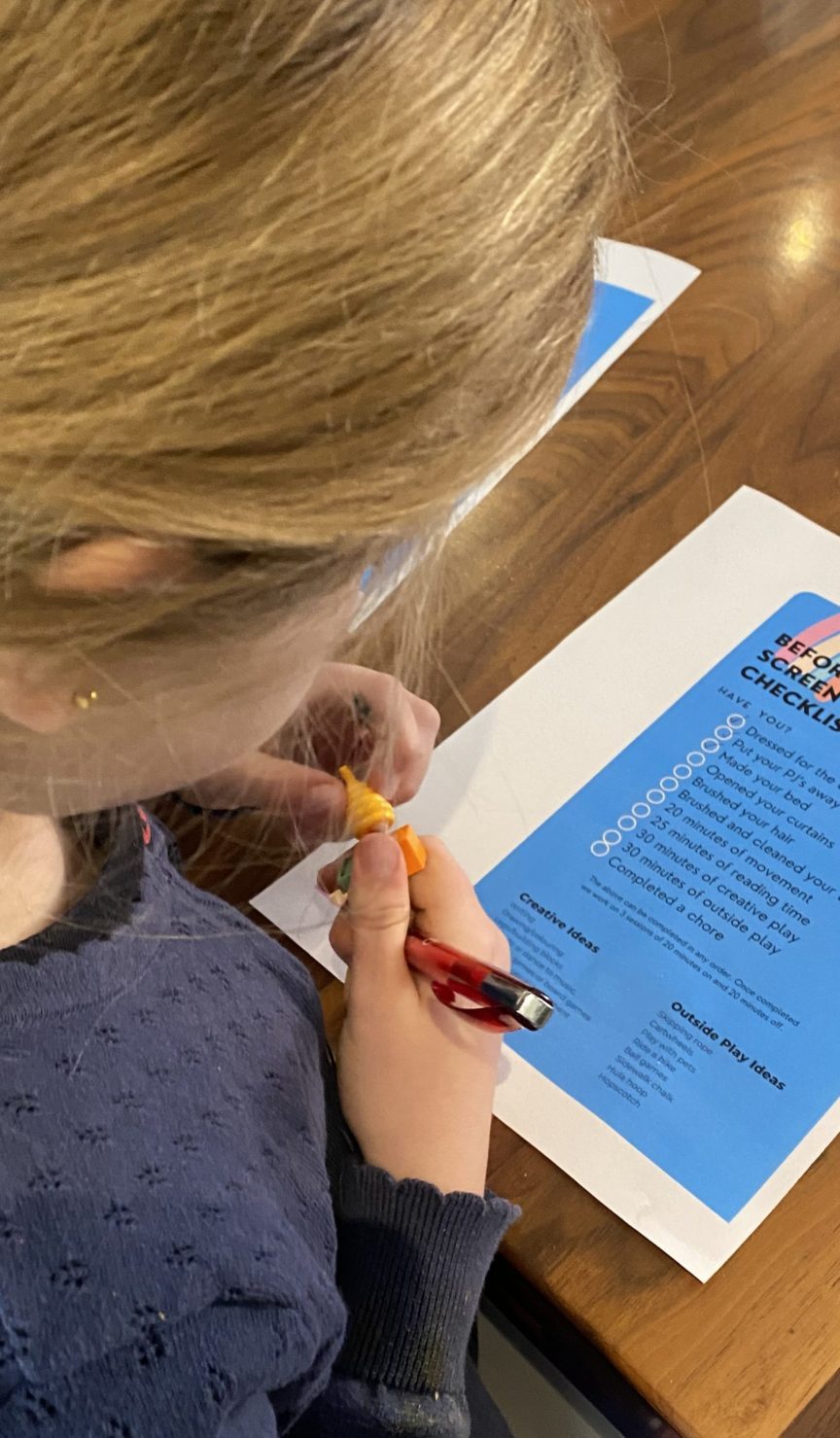 Let's Talk about the BEFORE Screen Time Checklist
A lot of the suggestions and challenges on the Before Screen Time Checklist are what I hope to do with the girls and some I have found online and through other blogs. I will look at and share some of the cool things I have seen at the end of this post.
Having an interest in education and being on a journey with my girls that has involved Occupational Therapy and Speech Therapy I have learnt so much. These ideas and suggestions work on fine motor skills and gross motor skills and include activities that are perfect for Sensory Play. Some will require a bit more patience, either from you or from them, and there are other skills to make your kid's CV look brilliant!
Here is your FREE Before Screen Time Checklist
Now that I have now created a Before Screen Time Checklist, I feel like I feel less overwhelmed. I hope it works for you and your children too.
Some Blogs to check out
As promised, here are a few other activities I think would be brilliant activities to do before you let your kids indulge in their screen time.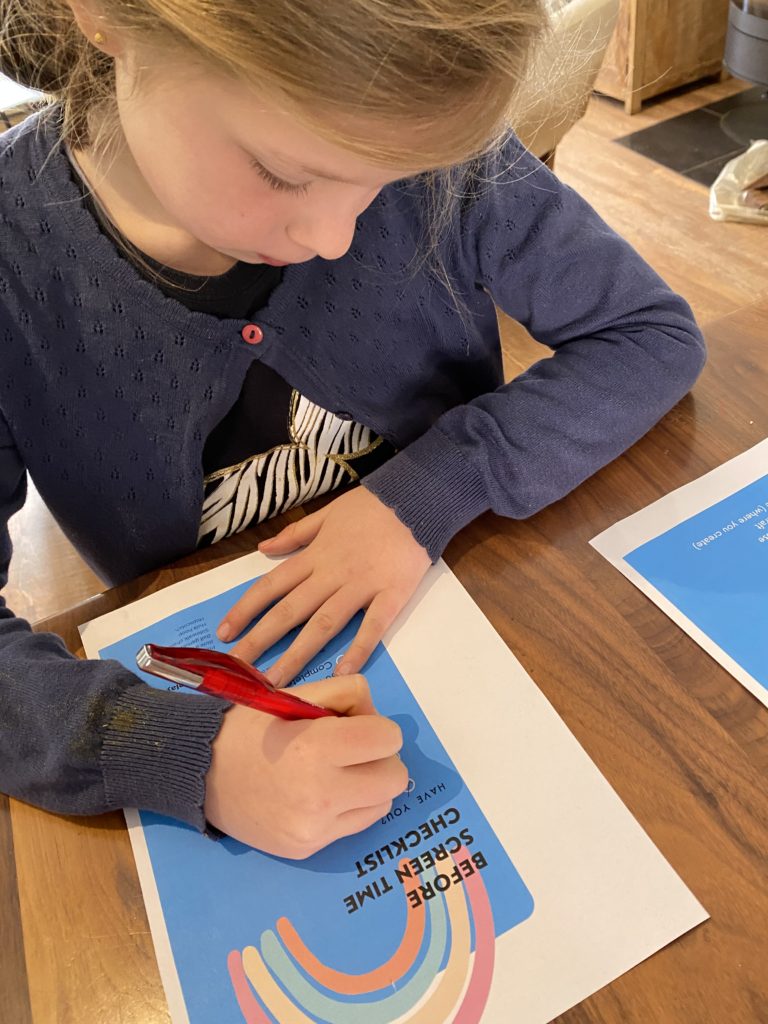 And if you are looking for something that you can do with the kids or alone here is a video on how to make a Paper Protea using old books. Please don't forget to please like the video and subscribe to my channel.
I hope you find as much use from this as we did. Let me know if there's anything on my Free Before Screen Time Checklist that you love and already use, and also if there is anything missing that you use at home to help manage your child's expectations (and behaviour).