I have had toys from the Little Tikes brand before, so I am no stranger to the brand. However, with their 50th birthday celebration, I now realise why. The brand is still going strong, just as the Dirt Digger Plow and Wrecking Ball toys are also going strong in my household.
What am I on about?
You see, I was lucky enough to review a toy.
Initially, did I think I was lucky? No.
"Why?" You may ask?
Well, I have been given a hard time by Miss K when she asks why there are no pink remote control cars. So when the toy drop happened I was asking myself, what do I do? Run a giveaway because, well, it's a "boy toy" and I have girls. (Yes, yes! Bad mom moment after fighting the good fight.)
I left it there. Or so I thought.
However, my girls decided to open the toy. What has transpired is a toy that has become a firm favourite in our household. Yes, I went against every feminist mom moment and for once I am glad my girls didn't listen to me. Whilst this review is being sponsored my response is honest and truthful in my approach.
What Little Tikes Have To Say About It
The Little Tikes Dirt Diggers Plow and Wrecking Ball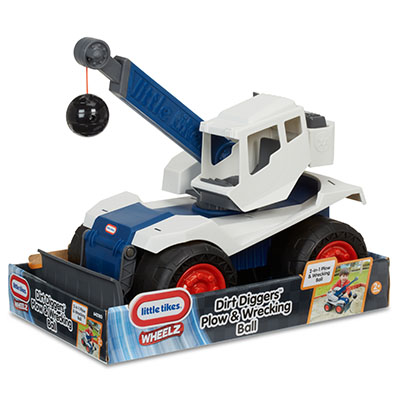 The Dirt Diggers Plow & Wrecking Ball can be used in sand or dirt for extra outdoor fun! This construction vehicle is a toy bulldozer, plow, and wrecker all in one! Build the biggest sand castle and then have fun knocking it down.
Key Features:
Construction vehicle is a toy bulldozer, plow, and wrecker all in one!
Plow moves up and down, left and right to move the dirt where you want it
Crane moves up and down
Pull out the crane extension to raise the wrecking ball
Wrecking ball moves up and down
Truck cabin rotates 360 degrees
Rugged, plastic construction
Perfect for indoors or outdoors play
No batteries required!
The above information appears on their website and without reading it my girls put it to the test. I can attest to the the above as all factual and correct.
What The Girls Have To Say
They have loved it. It has integrated nicely into every aspect of "house-house", "kitchen-kitchen" and "mess-mess" that they have played.
I cannot recommend this toy enough and I honestly believe that you will not go wrong gifting this one or any of the Little Tikes toys for a birthday party or baby shower. It really is a gift that has kept on giving.
---
Little Tikes Background Info
The products are created for babies and toddlers, as well as older children, with a focus on interaction, movement and learning. From outdoor sets to role-playing toys, the products encourage children to play, push, pull, bounce, twist and more. The toys have been designed especially for little hands and are tough enough to endure being chewed, hit and thrown about.
Little Tikes turns 50
The iconic toddler's and children's educational toy brand, Little Tikes is celebrating its 50th birthday this year! Known for its colourful, resilient, fun and educational toys, the brand continues to bring exciting new products to an already well-established and much-loved range.
"For 50 years Little Tikes has brought smiles and happiness to children all over the world. The toys incorporate fun, education, gross and fine motor skills development, ingenuity and of course fun. The products are made especially for little hands and are built to last. Kids can throw them, bite them and really get stuck in with hands-on play. The toys are a firm favourite amongst kids in South Africa and no doubt will be enjoyed for generations to come," says Chiquita Patrizi of Prima Toys.
Little Tikes encourages play
A 2018 policy report from the American Academy of Pediatrics suggests parents should pencil in big blocks of time devoted to nothing but free play. One reason for the suggestion is that a high percentage of children in the U.S. no longer have break during their day at pre-school because of increased academic pressure. While this is fortunately not the case in South African pre-schools, time for free play is diminishing and parents should take heed before it becomes a "playtime crisis".
As a response to this, Little Tikes and Prima Toys aim to celebrate the important relationship between parent and child and encourages parents and kids to be active and playful through discovery… together! The Little Tikes product range is designed for all sorts of play patterns and lays the foundation not only for the healthy development of a child, but for the future of play.
Little Tikes toys are available at good toy stores countrywide. For more information go to www.primatoys.co.za
---
I am currently putting the video together of our Little Tikes Toy Review. One thing is for certain. I know that this toy will be going strong until then.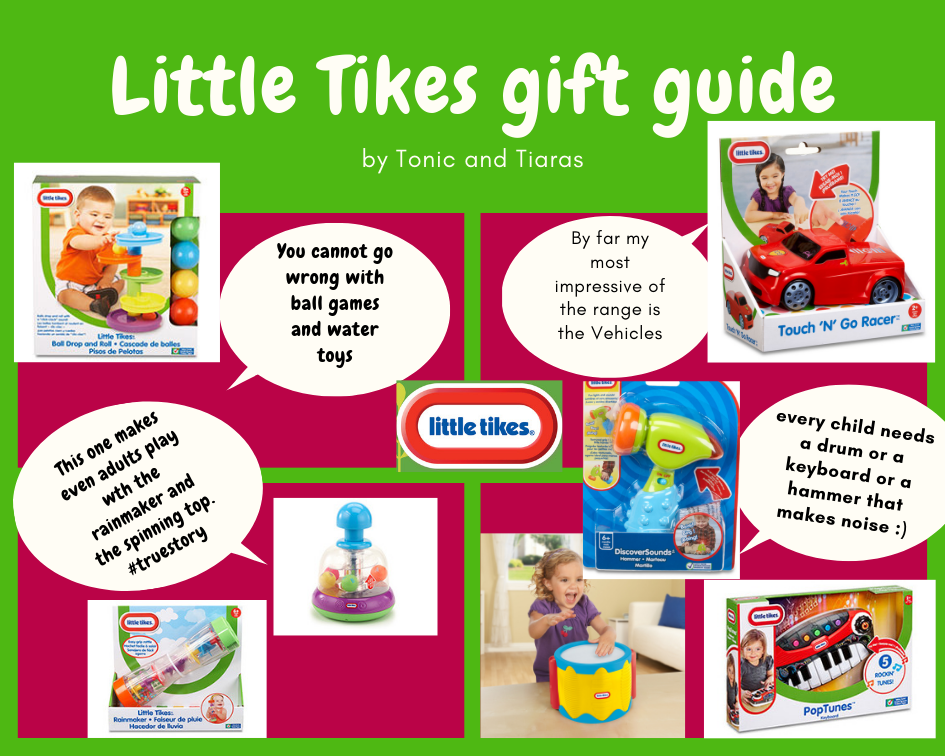 Disclaimer: I received this toy in exchange for my honest review. All thoughts and opinions are my own.
This post was edited by Blue Media Edit.